Real Clothes for Real Dance

Tiffany E. Barber




He had great disdain for anything that made him sweat— other than dancing.1
Polly Rayner

Willi Smith's first runway shows for WilliWear took place at lofts, theaters, and galleries in downtown Manhattan in 1978, combining two of the designer's favorite things: people and dance. A cohort of dancers doubled as models for these events, showcasing Smith's innovative approach to clothes and performance to crowds of fashion and art world insiders. A funky balance of form, function, and play, his now iconic workwear jumpsuits with sailor collars and lightweight cotton separates defied social norms concerning gender and sexuality as well as those associated with high fashion. For Smith, fashion was more than a lifestyle. It was real people. It was unstructured movement. These characteristics likewise motivated the designer's pioneering artistic collaborations, from modern and postmodern dance to video art. Against the backdrop of seventies disco and the ostentatious pop and pomp of the eighties, Smith's designs for the everyday and the stage represented a different kind of dynamism where contemporary public life and performance not only intersected; they commingled and were co-constitutive.

Dancer-choreographer Dianne McIntyre's The Lost Sun (1973) and Deep South Suite (1976) were the first of many collaborations Smith would pursue in the years preceding and immediately following the launch and meteoric success of his label. Both dances interweave "high" and "low" cultural forms. Set to pianist Gene Casey's Antediluvian Mystery, The Lost Sun premiered at the Clark Center for the Performing Arts in New York on January 28, 1973, and featured six dancers whose leg and arm extensions, torso contractions, high jumps, and turns epitomized the virtuosity McIntyre strove to convey in her early work. Smith's simple yet elegant costumes for The Lost Sun echoed the dancers' expressivity. The jersey-knit half-sleeve bolero capes, two-piece shirt and skirt sets, turbans, and billowing pants wrapped at the ankle flowed with abandon just as the dancers did. All in white, beige, and yellow, the costume separates, along with their fluid silhouettes and tailored details, served as prototypes for the looks Smith would eventually mass-produce.

Willi Smith for WilliWear, Spring 1979 Presentation, 1978
The costumes and choreography for Deep South Suite, a signature piece named after Duke Ellington's jazz composition of the same name, were inspired by what Smith and McIntyre imagined Black life to be in the American South. Alvin Ailey, pioneer of African American concert dance, invited McIntyre to make the suite for his 1976 Duke Ellington Festival.2 Vivifying the programmatic notes Ellington penned for the composition, McIntyre's expressive choreography builds with the music across the dance's four sections. Seven dancers intermix leg extensions, pirouettes, and movements drawn from modern dance techniques with hip rolls and shimmies performed in juke joints and dance halls. In each section, the dancers' movements closely relate to and elaborate various parts and pitches of the multilayered musical score, moving from joyous camaraderie in the first section to the somber effects of racial violence in the second section. The third section, a duet, explores the possibilities of interracial love, and the final section circles back to the ensemble dancing and waving as a train conductor passes by the crowd. McIntyre saw Deep South Suite as not only an extension of the music but also as an added element necessary for completing Ellington's orchestration. At various moments, the dancers fall to the ground in unison, reacting to an unseen force. Putting into motion the realities of Black life in the South, the dancers slump, shimmy, jump, partner, and extend their arms and legs high above their heads. Smith's free flowing skirts, blouses, bandanas, and pants accentuate these movements and the desire for new opportunities.
Smith's design sensibility in these early creative exchanges was the perfect complement to McIntyre's explorations of the synergy between dance and jazz music. As an undergraduate at Ohio State University, McIntyre studied structured improvisation with Judith Dunn, a founding member of Judson Dance Theater, and Bill Dixon, a well-known free jazz musician. Structured improvisation often takes the shape of a score—a set of prompts that encourages organized yet open, fluid movement and exploration, the outcomes of which are not predetermined. For Dunn and Dixon, structured improvisation was the grounds for formal and social experimentation. "In addition to creating striking improvised works," dance scholar Danielle Goldman outlines, the pair's "collaborations explored and openly acknowledged relations between Black traditions of improvised music and the rather white world of postmodern dance."3 Dunn's improvised work incorporated quotidian movement and chance procedures that spanned rolling dice to determine when and where dancers would enter and exit the stage and leaving parts of her compositions open to the performers' own choices. Dixon, on the other hand, found chance operations limiting and preferred freedom and sponta- neity in the moment. Both, however, assigned dance and music equal value, refusing to see them as independent elements that exist in a hierarchical relationship.
Willi Smith for WilliWear, Summer 1978 Presentation, 1978
McIntyre's work elaborates Dunn and Dixon's process by underscoring the social aspects of dance. For McIntyre, dance is not presentational. She encourages dancers to relinquish their personae in order to inhabit the interior of her choreography, which originates from two extreme ways of working. McIntyre's dances are either totally improvised or the result of stylized choreography created and set in rehearsals. At times, the movement and the music simultaneously affect one another, generating a unique work of art in the moment. Upon moving to New York in 1970, McIntyre further developed her signature style. She associated with jazz musicians from the Master Brotherhood collective and incorporated Black social dances such as the jitterbug, the shag, and the Charleston into her work. Louise Roberts, director of the Clark Center, mentored her in these beginning stages, giving the budding choreographer free space to rehearse her early dances. Roberts produced McIntyre's first formal dance concert at the Clark and helped McIntyre establish Sounds in Motion in 1972. During this fruitful period, McIntyre facilitated cross-disciplinary conversations between visual artists, dancers, musicians, critics, and designers, "even though design was somewhat peripheral," the dancer choreographer remembers.4 Reflecting on what it was like to come of age as artists in the seventies and eighties, she states, "For us, it was all part of the same mix. . . [Willi] never set himself apart; he wanted to be part of the art. . . It was the way things flowed at the time. It was cross-fertilization."5 Influenced by civil rights struggles and the Black arts movement, McIntyre's informal convenings paralleled Smith's collaborative spirit, which soon found new outlets for expression.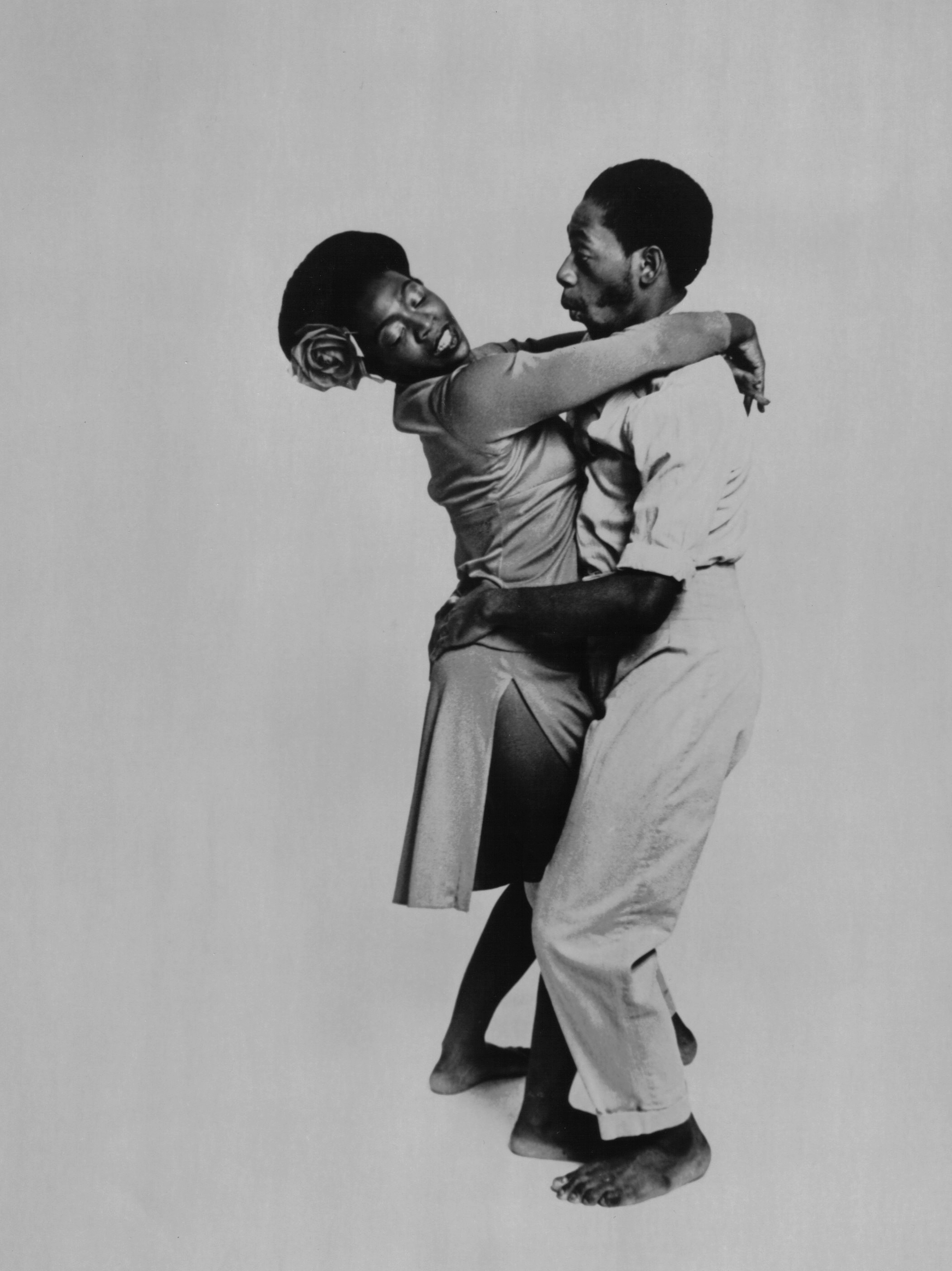 Bernadine Jennings and Leon Brown in
Deep South Suite
, Choreographed by Dianne McIntyre, Photographed by Johan Elbers, 1976
The eighties afforded Smith exciting opportunities as the designer's brand expanded. Along with his success, Smith's aesthetic sense matured, as did his interdisciplinary vision. The designer and his partner Laurie Mallet launched a production division, WilliWear Productions, to focus on large-scale collaborations with several of the era's most compelling contemporary artists. Reflecting on his ambitions during this time, Smith exclaimed, "I want to branch out, I want to be everywhere. . . I want to conquer the world!"6 Notably, dance remained central to the designer's evolving vision and patronage. In 1983, he funded the premiere of Trisha Brown, Robert Rauschenberg, and Laurie Anderson's Set and Reset at Brooklyn Academy of Music (BAM), with the next year proving even more monumental. On May 16, 1984, WilliWear produced Artventure, a gala benefiting the Public Art Fund in New York. At the event, the designer premiered Made in New York (1984), video artist Les Levine's funky, offbeat homage to the city that never sleeps starring Bill T. Jones and Arnie Zane, and sold his new line of artist T shirts. A month later, McIntyre premiered one of her most memorable dances, Take-Off From a Forced Landing, in honor of her mother who in 1939 entered a government aviation program and became one of the first Black women to be trained as a pilot. For the piece, Smith dressed the eight dancers in goggles and a reworked version of his lightweight cotton jumpsuits. Smith first developed this clothing concept for Digits Sportswear, and the uniform repeatedly appeared in his WilliWear collections and costume designs. In November and December later that year, he designed costumes for Secret Pastures, a landmark piece that again featured Jones and Zane, and funded BAM's 1984 revival of Philip Glass, Robert Wilson, and Lucinda Child's Einstein on the Beach (1976), a five-hour-long opera in four acts. Both works revolutionized live theater. 7

Secret Pastures epitomizes Smith's desires to work beyond fashion. The ninety-minute piece premiered at BAM's Next Wave Festival on November 15, 1984. Featuring a compendium of collaborators working across concert dance and pop art, the piece animates the concept of gesamtkunstwerk—"the total work of art." Jones and Zane choreographed the movement; Peter Gordon composed the music; Marcel Fieve styled makeup and hair; Keith Haring designed the set elements; and Smith created the costumes. Jones as fabricated man, Zane as the professor, and eleven ensemble characters enliven Secret Pastures's nonlinear narrative about the divide between primitive and modern experience. The professor and the ensemble execute angular, sharp, and sexually evocative movements, punctuating Gordon's percussive, punk-inflected score and Haring's iconographic homoerotic drawings on stage.8 Smith's asymmetrical frocks and jumpsuits worn over undergarments in neutral colors, swing coats, and signature pants—baggy with a high, wrapped waist—encourage freedom in motion while Jones's primordial figure, dressed in a unitard, moves awkwardly yet fluidly. In a duet with Zane, Jones learns to walk, dance, and gyrate as Zane inspects and manipulates his limbs. As the piece progresses, the narrative becomes a pretext for dancing, and the choreography becomes more sexually explicit. At one point, the dancers, now wearing bright-colored, tight-fitting athletic wear, transpose Haring's drawings into a tableau: in a line of intertwined bodies, a dancer's head crouches in between another dancer's legs; one appears to bite another's neck; and yet another dancer throws their head back in ecstasy.

Smith's unisex, interchangeable costumes designed to be switched from dancer to dancer contrast with Secret Pastures's sexual charge. His "freewheeling" designs, as he described them,9 instead emphasize form, vitality, and unrestrained movement, all of which Jones and Zane, personal and professional partners, exploited in their own identity-based work of the seventies and eighties. Jones's interest in movement and speech fused with the visual design sensibility Zane drew from his work as a photographer and experimental filmmaker. The physical contrast between Jones (tall, African American, gracefully athletic) and Zane (short, Jewish, quick, and wiry) also informed the pair's shared creativity. After attending Lois Welk's contact improvisation workshop at SUNY Brockport, collaboration became a central component of their choreographic process. Between 1974 and 1979 in Binghamton, New York, the duo was part of American Dance Asylum (ADA) along with Welk and another dancer, Jill Becker. To develop their individual and collective works, the members of ADA employed a process whereby each member informed the activities of the others. Though formative, Jones and Zane had outgrown ADA by 1979. Wanting to live in an area more supportive of both their art and their identity as an interracial gay couple, the pair moved to Rockland County, New York, where they continued to make dances together until Zane's death in 1988.10 Like Dunn and Dixon, improvisation, and dance more broadly, provided Jones and Zane with techniques for breaking down taboo boundaries between form and identity on the one hand and race, sexuality, and age on the other. Against the grain of aesthetic and social expectations regarding which bodies can and should dance, male-to-male intimacy, and interracial partnerships, the duo worked to be on stage together-intertwining their bodies, lifting and carrying each other across stage, striving for more.11

Secret Pastures
at Brooklyn Academy of Music, Choreographed by Bill T. Jones/Arnie Zane Dance Company, Music composed by Peter Gordon, Set designed by Keith Haring, Costumes designed by Willi Smith, Photographed by Tom Caravaglia, 1984
Secret Pastures
at Brooklyn Academy of Music, Choreographed by Bill T. Jones/Arnie Zane Dance Company, Music composed by Peter Gordon, Set designed by Keith Haring, Costumes designed by Willi Smith, Photographed by Tom Caravaglia, 1984
For McIntyre, Jones, and Zane, dance and meaningful collaboration engendered radical acts of freedom. They each worked within and beyond concert dance's constraints to interrogate staid notions of embodiment, culture, and form. By bridging dance with Black sound, improvisation, autobiography, and cross-racial intimacy, McIntyre, Jones, and Zane contested the confines of modern dance practice and theory as well as the post- modern dance world's overwhelming whiteness. Smith relatedly sought to make clothes for various bodies and shapes unbound by racial and sexual pathologies, even as his identity and lived experiences deeply informed his work. Like Jones, who "rankled at being called a 'Black artist,'" Smith saw himself as more than simply "a Black designer."12 Smith's approach to making clothes, what cultural critic Hilton Als calls "the designer's democratic urge," was interdisciplinary from the start, and he and his collaborators were each on the cutting edge of their respective fields.13 Smith infused his separates with whimsy and irreverence, humor and exuberance, quali- ties also present in his designs for dance. Ultimately, his costumes articulate a novel theatrical style on par with the choreographic ethos of McIntyre, Jones, and Zane—"real" clothes for "real" dance that transgressed the rules of the avant-garde. In so doing, Smith and his collaborators initiated new modes of artistic expression and unrestricted movement at the forefront of postmodern art and design.


Tiffany E. Barber is a scholar, curator, and writer of twentieth- and twenty-first-century visual art, new media, and performance. Her work focuses on artists of the Black diaspora working in the United States and the broader Atlantic world.

Polly Rayner, "WilliWear Designer Creates 'Basic Clothes with a Sense of Humor," Morning Call (October 21, 1984), accessed July 15, 2019, Link.

Alvin Ailey's Duke Ellington Festival ran from August 10 to 15, 1976, at Lincoln Center's New York State Theater. The festival was planned to coincide with the bicentennial of the USA. Ailey selected the music for McIntyre's piece.

Danielle Goldman, I Want to Be Ready: Improvised Dance as a Practice of Freedom (Ann Arbor, MI: University of Michigan Press, 2010), 62.

Dianne McIntyre (dancer-choreographer) interviewed by Alexandra Cunningham Cameron and Julie Pastor, Cooper Hewitt, Smithsonian Design Museum, New York, NY, 2019, unpublished recording.

Ibid.
Smith quoted in Rayner, Link.
Dance continued to energize Smith's interdisciplinary approach to design and performance in the years between 1984 and his death in 1987. One notable example of this is Expedition (1985), which featured members of the National Ballet of Senegal.
Between 1982 and 1984, Bill T. Jones collaborated with Keith Haring on three different projects. Long Distance, performed at The Kitchen in 1982, featured Jones dancing to the sounds of Haring's brushstrokes as he simultaneously painted the backdrop in situ. Next, Haring's white-line drawings adorned Jones's naked body in a series of photographs that Tseng Kwong Chi took in 1983. The third project was Secret Pastures.

Smith quoted in Nancy Vreeland, "Dance & Fashion," Dance (October 1984): 75.

Jones and Zane formed the Bill T. Jones/Arnie Zane Dance Company in 1982.

Goldman makes a similar claim about Dunn and Dixon. See Goldman's "We Insist! Seeing Music and Hearing Dance," in I Want to Be Ready: Improvised Dance as a Practice of Freedom (Ann Arbor, MI: University of Michigan Press, 2010), 69.

See Bill T. Jones with Peggy Gillespie, Last Night on Earth (New York: Pantheon Books, 1995), 164.
Hilton Als, "Willi Smith, 1948–87" Village Voice (April 28, 1987).